Action24 Fast Facts
Why You need Alarm Systems for Homes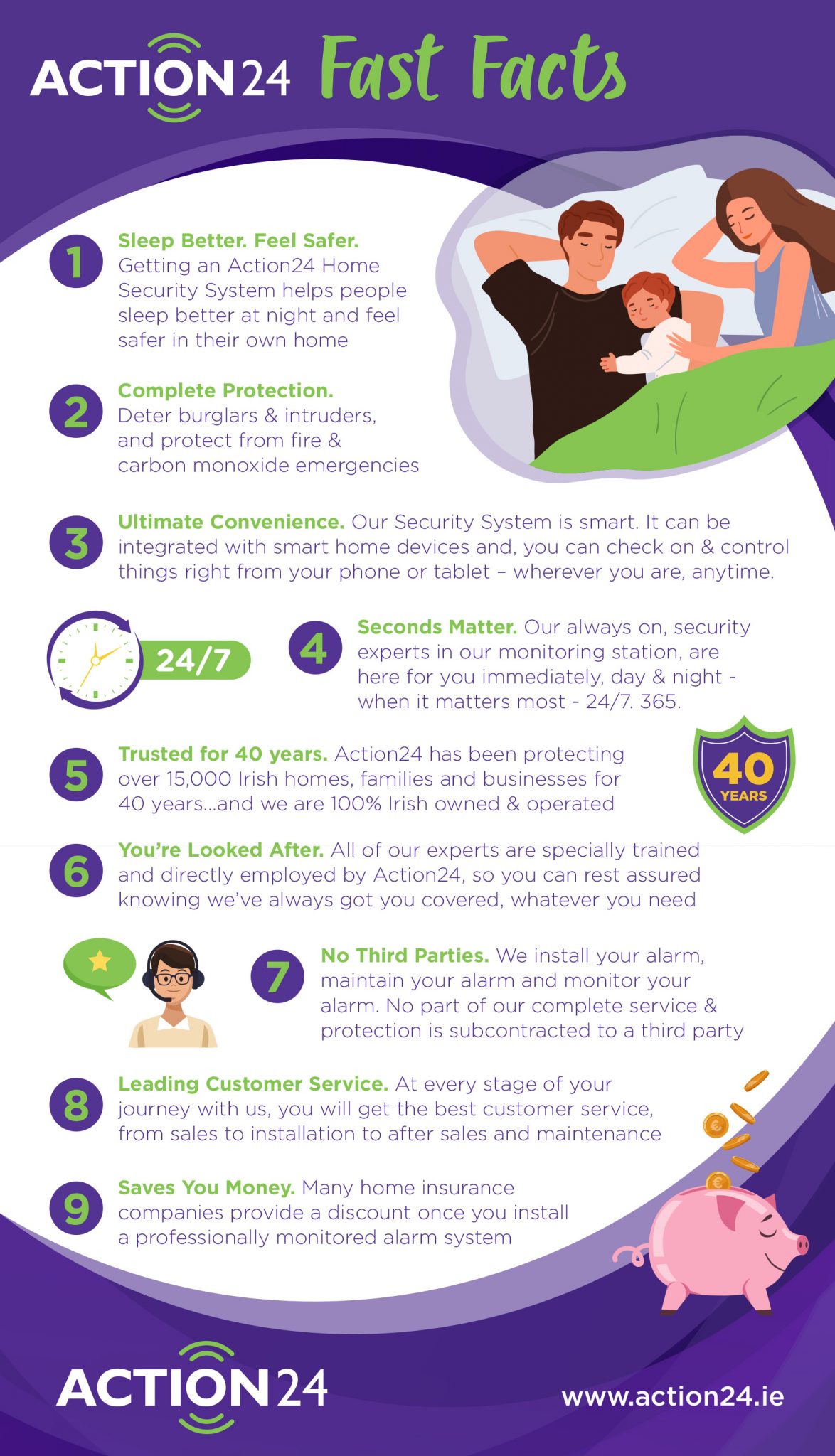 Getting an Action24 Home Alarm Security System helps people sleep better at night and feel safer in their own home. Action24 Security Systems offer complete protection while providing the ultimate convenience through smart home functionality. Trusted for 40 years, keeping customers safe is our number one priority.
Top Reasons Why To Get Home Alarm Systems?
1. Sleep Better. Feel Safer.
Getting an Action 24 Home Security System helps people sleep better at night and feel safer in their own home.
2. Complete Protection.
Deter burglars & intruders and protect from fire & carbon monoxide emergencies.
3. Ultimate Convenience.
Our Security System is smart. It can be integrated with smart home devices and, you can check on & control things right from your phone or tablet – wherever you are, anytime.
4. Seconds Matter.
Our always on, security experts in our monitoring station, are here for you immediately, day & night – when it matters most – 24/7. 365.
5. Trusted for 40 years.
Action24 has been protecting over 15,000 Irish homes, families and businesses for 40 years…and we are 100% Irish owned & operated
6. You're Looked After.
All of our experts are specially trained and directly employed by Action24, so you can rest assured knowing we've always got you covered, whatever you need
7. No Third Parties.
We install your alarm, maintain your alarm and monitor your alarm. No part of our complete service & protection is subcontracted to a third party.
8. Leading Customer Service.
At every stage of your journey with us, you will get the best customer service, from sales to installation to after sales and maintenance
9. Saves You Money.
Many home insurance companies provide a discount once you install a professionally monitored alarm system
Know why you should choose Action24 Alarm Systems for your home.
ACTION24 www.action24.ie