Current Customer
How do I change my billing details?
To change your billing details, please email us at accounts@action24.ie with your request and please include the 1st line of your home address so we can verify your Action24 account.
I am getting low battery signals from my alarm. What do I do?
The smart alarm system that we have installed for you is a wireless system. The sensor and internal beams we have fitted contain batteries which need to be changed every 3-5 years.
The supply and fit of these batteries is covered under your maintenance and monitoring agreement with us.
If you get a low battery alert from your system you do not need to contact us. Your system is still connected and monitored.
The Customer Service Team will  arrange an engineer visit with you in due course.
I'm moving house, what should I do regarding my alarm?
Give us a call @01 297 3333, select 1 to talk to one of our team members and we will work out the best option for you. Alternatively, see Moving Home, fill in your details and we'll be in contact with you.
Can I upgrade my current alarm system?
My SkyBell is flashing orange or red/green. What should I do?
If your SkyBell is flashing ORANGE or flashing RED GREEN it needs to be relearned to your Wifi and alarm.com account.
Please follow our SkyBell Troubleshoot Guide
How do I manage the notifications I get via the app?
You can manage what notifications you get via your app (whether they are push, text or email alerts).
Go into your Alarm.com App
Click the 3 bars in top left corner
Scroll down to 'Notifications'
You will see what's enabled for your device
Click the settings icon in top right corner to view all notifications  (active and paused)
How do I arrange a service of my alarm system?
Your Action24 system receives a full remote daily health check as part of the monitoring service with us. If you wish to book a service of your alarm system please email support@action24.ie and we will be in touch to arrange an engineer visit.
New Customer
How does alarm monitoring work?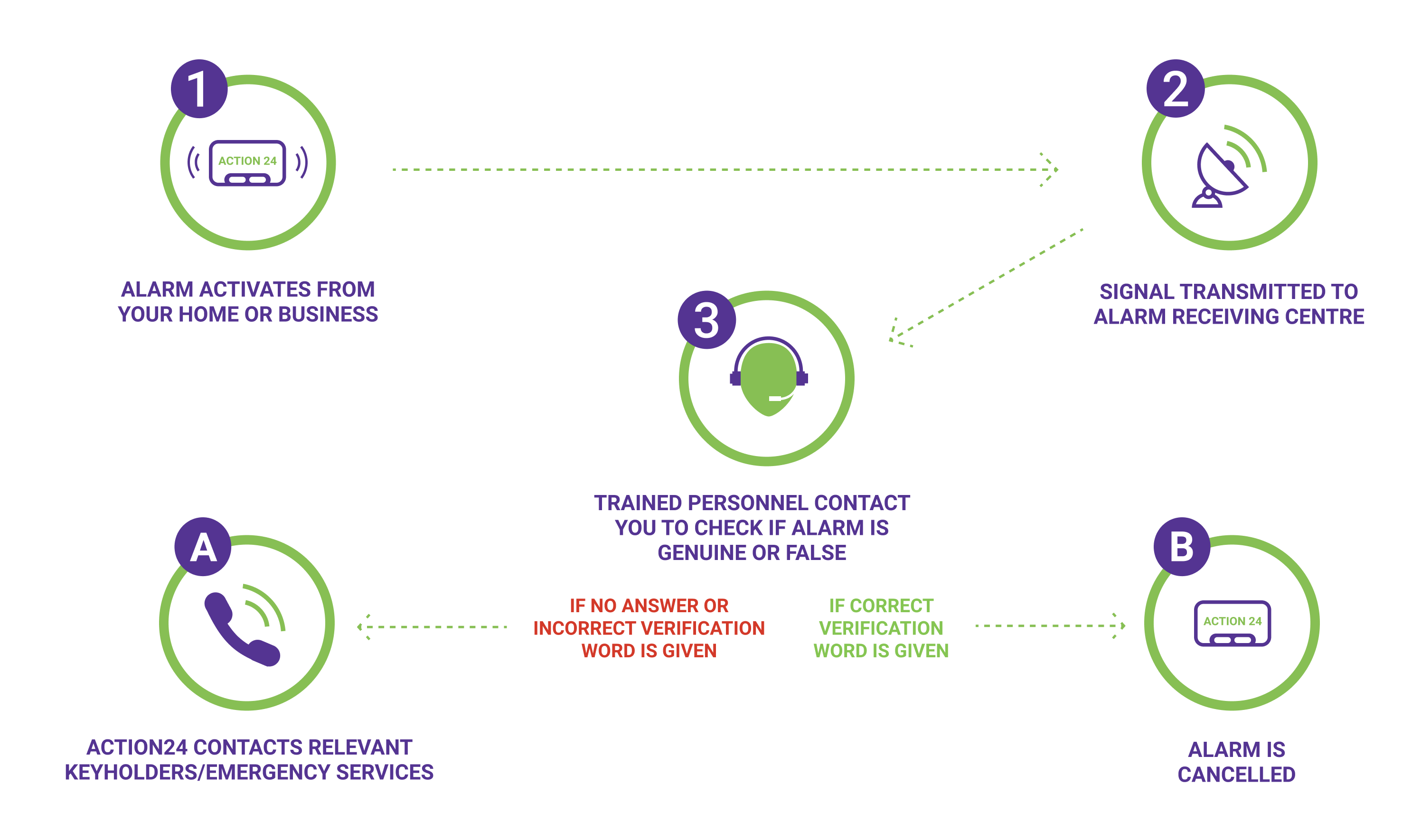 Can I save money on my homeowners insurance by having an alarm system?
Yes, some insurance companies provide up to a 20% discount on your homeowners insurance by having a monitored alarm system. Please check with your insurance company for more information.
What if I have an old alarm system, will you take that down?
We can take down old alarm systems on the day of your new Action24 Alarm installation. If you require this at an earlier date, our engineers can power down your old system and then return on the day of installation to take down the old alarm system and install the new equipment.
Do I own my Action24 alarm system after installation?
Yes. Unlike some of our competitors like Phonewatch, once you have paid for the installation you then own the equipment in your home.
Does my home need to be pre-wired for an alarm system?
Does the smart alarm system installation take long? What's involved in it?
The average security system on a 3 bedroom house for example would take 2 to 3 hours.
Our engineer will fit the Bell Box, internal contact and motion sensors and the Touchscreen Control Panel.
You will be shown how to use the Control Panel with the App.
Additional devices like a WiFi camera and the Skybell which require sufficient broadband could take more time to install.
Can I reschedule my installation date?
Yes, that is no problem. Please call our sales team @ 01 297 3333, option 1 and we can work out a date to suit you.
How can I sign up to get an Action24 alarm system?
Simply call 01-2973333 or email sales@action24.ie . We will contact you immediately to arrange.
False Alarms
How can I prevent false alarms?
Home security systems not only help to discourage intruders from breaking into your home, but they also give you an added peace of mind. Help reduce the burden placed on the emergency services responding to false alarms when real crimes are being committed elsewhere.
Help prevent false alarms by following the checklist below.
Be comfortable with using your system
Know what happens when a panic button is pushed
Consider who should have access to your home and make sure they know your code and how to use the alarm
Test your system monthly
Always keep your emergency contact list up to date
Be aware of typical triggers, like securing all doors and windows before arming your system and that pets can set off motion detectors
Call us before you carry out house renovations
Cover your smoke detectors during construction, building repairs, and major cleaning
Remotewatch Live CCTV
What is the Protocol for Remotewatch Live CCTV activations?
Generally once a perimeter beam or a protected area is breached, an image and video clip will appear in our monitoring centre. Our operators will give an audible personalised message to the intruder. Our operator will then call the Gardai, keyholders and emergency services according to protocol agreed with the client.
Live CCTV monitoring is a very personalised service. Every site will have different protocols depending on the circumstances and site type. We are happy to go through protocol examples we can implement as part of our solution provision. The protocols can be easily altered at any time.
Analytic based monitoring v Traditional CCTV monitoring
Traditional CCTV monitoring sends in a video clip to the Control Room when an outside beam in a protected area is breached. The beam is unable to distinguish between a person, animal, car and rubbish blowing in the wind. This means that the operator now has to deal a high level of false alarm activity which are extremely time consuming and an divert attention away from genuine activations.
Analytics based CCTV monitoring utilises advanced video pattern detection technology in the camera itself that accurately identifies the movement of people and vehicles and ignores everything else. This means that any CCTV alarm sent to our monitoring centre are genuine alarms (a person or a vehicle).
How does video analytics work?
Analytics systems use complex algorithms in-built into the hardware that accurately identify how humans and vehicles move and can track and trace their movements in real time as they move across the camera's field of vision.
Analytic based CCTV systems are designed to ignore anything that is not classified as a human or vehicle. Once the system is armed, any human or vehicular movement that occurs in a specified area on camera is immediately detected and the offending video clip is sent to our monitoring centre for analysis.
Is Remotewatch Live CCTV cameras suitable for domestic homes?
Yes. Remotewatch can be deployed in any outdoor environment. The reduction in the price of the equipment needed for Remotewatch and market place competitiveness have meant Live CCTV monitoring is now a viable option for nearly any type of home.