Security You Can Count On
PRIMARY
SYSTEM
Protect & Deter
€199
Protection
State of the Art, Easy to use Touchscreen Panel
Smart Phone App to control your System with instant notifications

Flashing External Bell box – Deterrent
7 Wireless Contact & Motion Sensors
Plus….
Choose a CO Detector, Smoke/Fire Detector or, additional Contact/Motion Sensor
PREMIUM
SYSTEM
View & Voice
€299
All of the Protection from our Primary Security System
Internal, 2 Way Audio HD Camera with 1,000 clips of storage
Choose a CO Detector, Smoke/Fire Detector or, additional Contact/ Motion Sensor
PRESTIGE
SYSTEM
See More,
Front Door Security
€399
All of the Protection from our Primary Security System
Plus….

See More Security and Protection with our Skybell (Smart Video Doorbell) with 3,000 clips of storage & Video Analytics
And…
Choose a CO Detector, Smoke/Fire Detector or, additional Contact/Motion Sensor
For a limited time: Get an Internal CCTV camera for only €99 additional
Customer Service you can count on.
Our service includes:
Action24 Alarm Systems...Home Automation made simple!
Your Action24™ alarm system can be instantly expanded to turn your home into a Smart Home, all controlled from 
the same app with the same user friendly functionality. It's Irelands best wireless security system.

ADD Smoke Detectors, CO Detectors, and Break Glass Detectors for enhanced protection of your home and family

ADD IP Cameras to enable live view of your home from your smartphone or tablet and over 1,000 clips using SmartClip Capture

ADD a smart plug to control your lights, set up lighting schedules and turn on and off electronic devices such as radios
Control Your System. Your Way.
Your alarm panel can be simply controlled by three different methods.

Via the control panel in your home

Via the remote FOB that comes with the system

Via smartphone or tablet App available free with every installation
Smart Alarm App - alarm.com
All Action24™ alarm systems come with the award winning alarm.com App as standard.We have partnered with alarm.com to bring the leading home security and automation app for your home. The app is the market leader and will revolutionise the way you use your alarm system.
Compatible – With all smartphones and tablets
Custom Notifications – Receive real-time alerts via text, push notification, email or phone call.
Easy access – Remotely set and unset your alarm
Always aware – Receive notifications direct to your phone when literally any type of alarm event occurs in your home
Forget to alarm? – Set up geofencing to remind you to set when you move a certain distance away from your home
Keep track – Set up multiple user codes
Lights – Control lights/radio/electronic devices (all from the same App)
CCTV – View live CCTV footage from your home along with up to 1,000 saved clips.
Available for iPhone, iPad, Apple Watch and any Android device.
Accessible from any Smartphone or Tablet from alarm.com.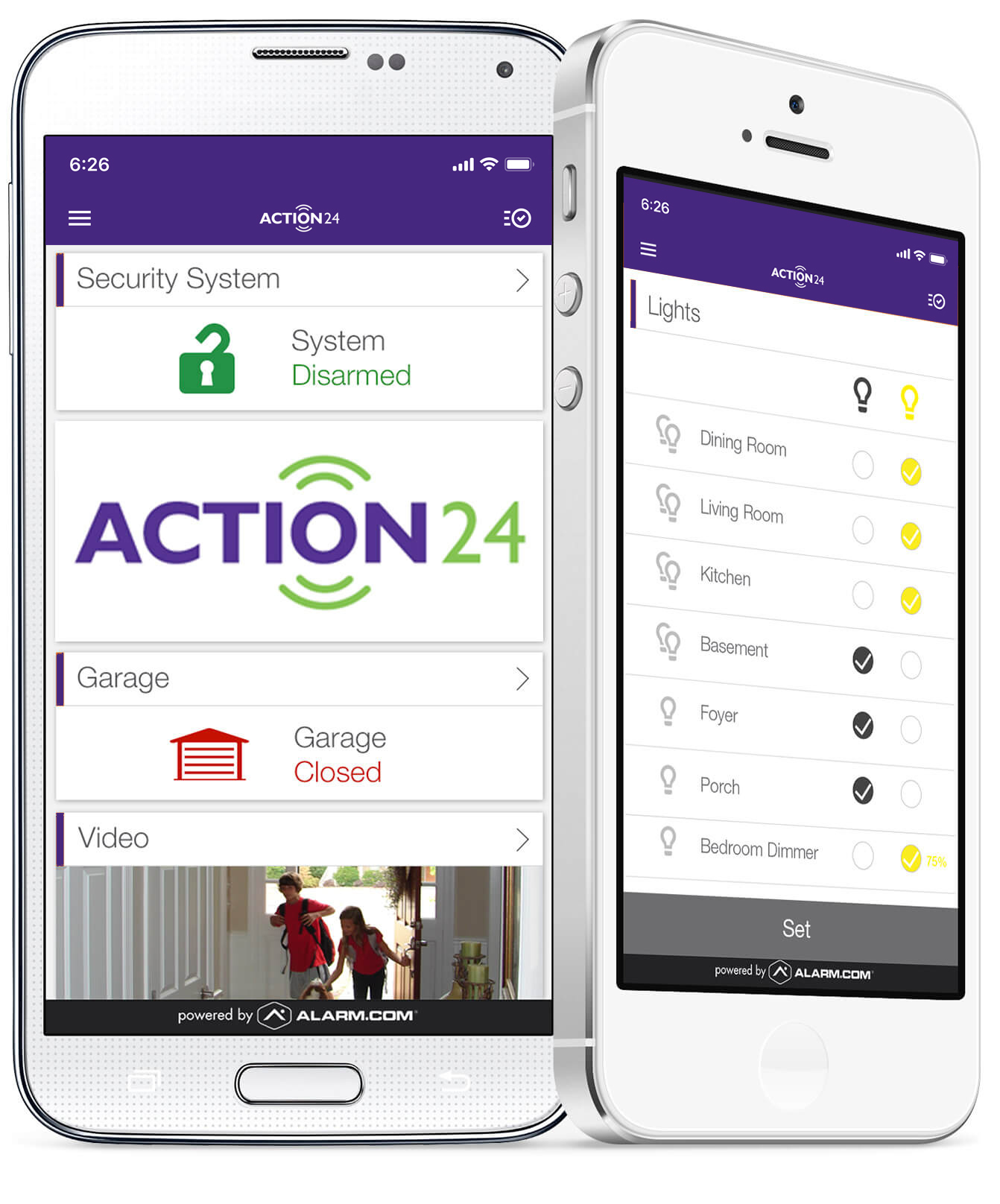 How does Alarm Monitoring Work?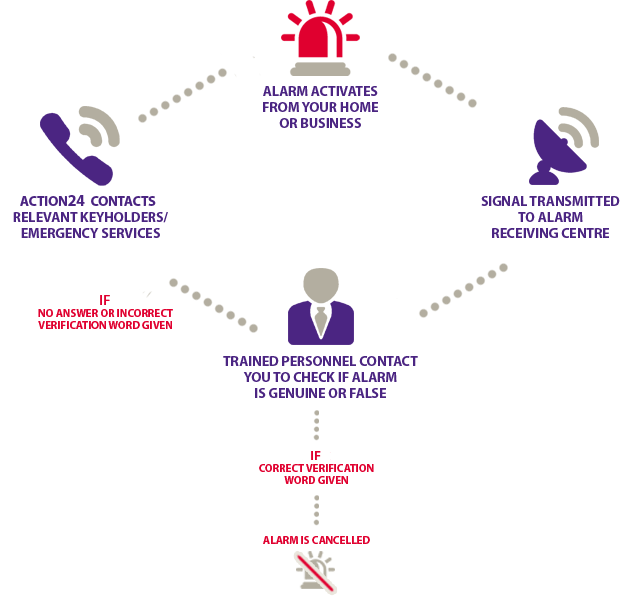 Connect and control your alarm system, CCTV system and lights for seamless automation and control from your Action24 app.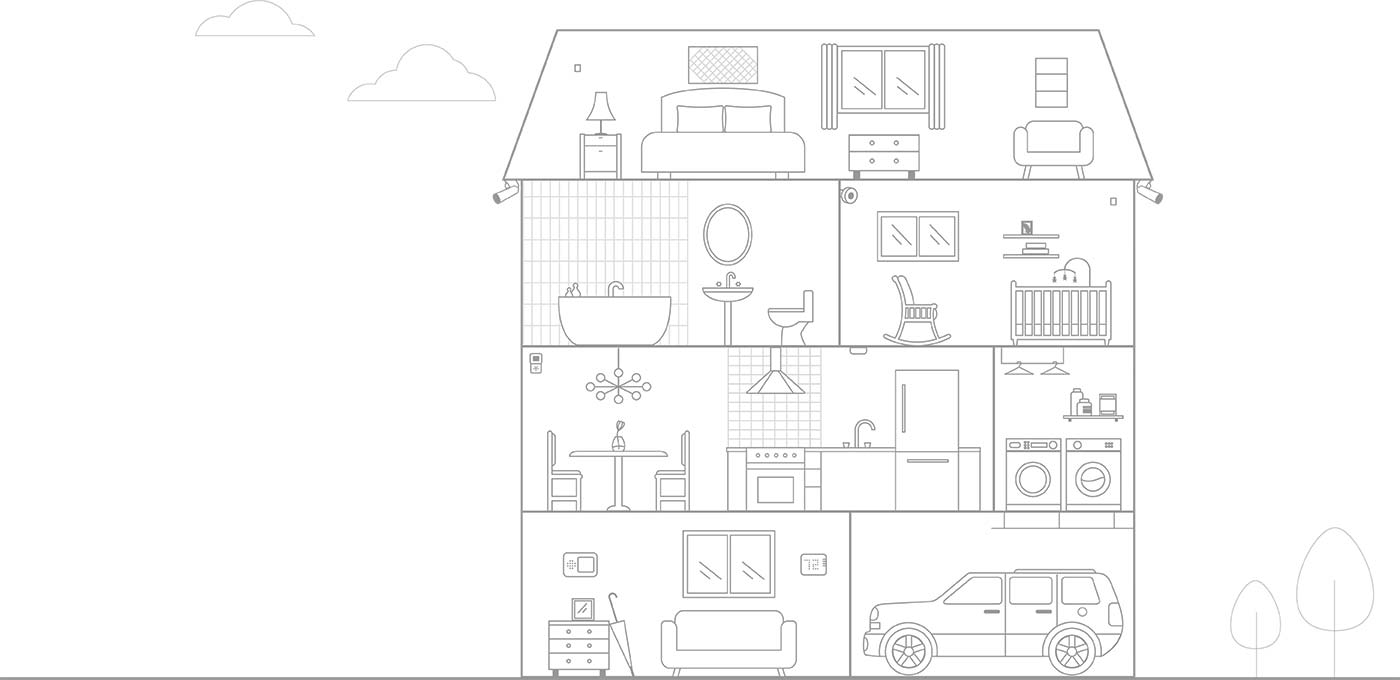 +
Window Sensor
+
Light Control
+
Video Camera
+
Smoke & CO Detectors
+
Garage Door Control
+
Doorbell Camera
+
Security Panel
+
Smart Lock