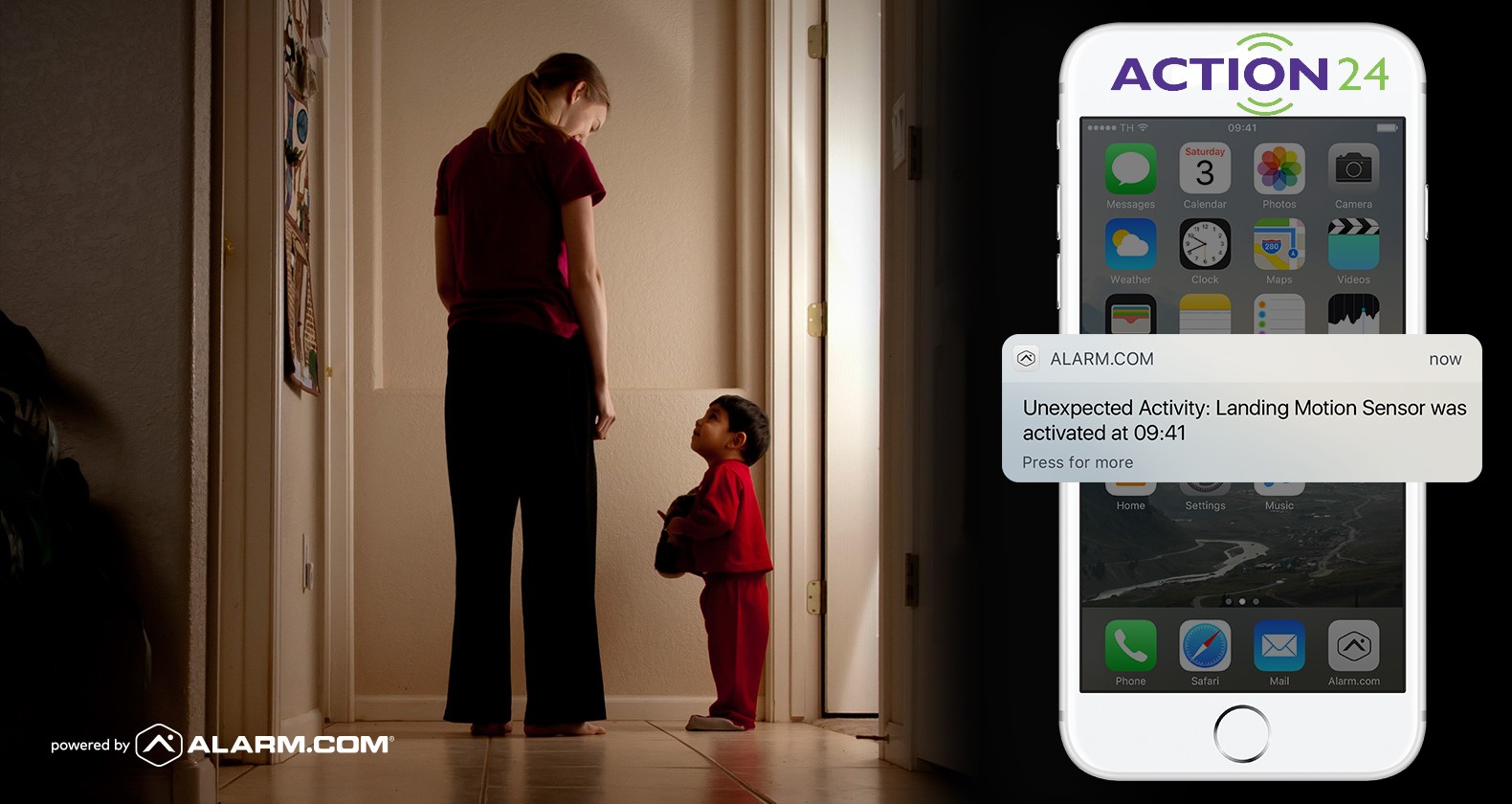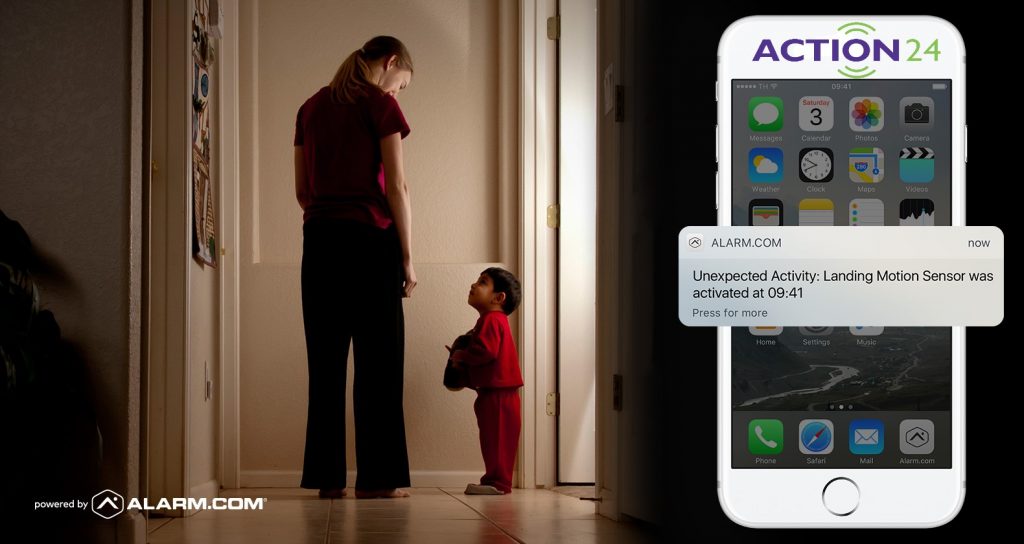 Choosing the right home security system can be confusing. You want to secure your home with a user friendly alarm system for the best value and there's a lot to consider. Here are some common questions answered.
DO I NEED MONITORING IF I HAVE AN ALARM SMART PHONE APP?
Simple answer is Yes.
Professional monitoring is the gold standard of home security. If there's a break-in or fire at home, a professionally monitored security system sends an emergency signal to our 24-7 monitoring station, where a trained security professional is on hand to alert the Gardaí or Fire Service.
The Action24 Smart Security System is professionally monitored and there is no effective substitute for this service. You can't see every smartphone alert that a security system sends you, and if you're home in an emergency, your priority is to get everyone to safety.
WILL MY SECURITY PANEL WITHSTAND A BURGLAR'S TOOLKIT?
Yes, for 2 valid reasons:

– Crash and Smash protection. A common burglary tactic is to smash a home's security panel to prevent it sending an emergency signal to our monitoring station. Alarm.com's technology can recognise a crash and smash attack, and signal our monitoring station regardless.

– Dedicated GSM connection. This type of signaling technology doesn't piggyback on your home's broadband or phone line, and so can't be physically cut by an intruder. Action24 security panels have a dedicated GSM connection with battery backup for power outages.
HOW MANY SENSORS DOES IT COME WITH?

Contact sensors are home security essentials; small devices that detect the opening and closing of doors, windows, drawers and more. Some security systems come with as little as two contact sensors, which is a problem. Burglars don't just use the front and back door.

Action24 will work with you to determine how many contact sensors your home needs, and provide them as part of the package. Currently we offer a combination of 8 wireless door/window contacts and motion sensors.
WHAT ELSE IS PROVIDED WITHIN THE ACTION24 ALARM SECURITY SYSTEM?

The proactive safeguards of the Action24 Smart Alarm System can protect your home from far more than a burglar and make life that little bit easier.
Danger Detection: The alarm system can detect and respond to dangers like fire and carbon monoxide.
Unexpected Activity Alerts: The app can alert you when there's unexpected activity around your house, such as your kids getting into forbidden areas.
Convenience: With the skybell, accessible on your Alarm.com app, you can even manage your package deliveries remotely. Speak to the delivery person through the 2-way mic function so they can drop your package into a neighbour or hide it in your garden. Very handy if you're doing your Christmas shopping online!
With the ability to respond to more dangers and challenges, even when disarmed, an Action24 alarm system gives you more value in the long run.
WHAT HAPPENS IF SOMETHING STOPS WORKING?

The most important thing about a security system is that it has to work when you need it. When you go it alone on a security or smart home setup, what happens when a device or component of the system needs professional attention?

With Action24, help is always at hand. With advanced training, and online diagnostic tools, we can quickly troubleshoot your system. Many issues can be fixed remotely; other fixes can be carried out by a visiting engineer.
Action24 provide a dedicated service. To keep issues at bay, we carry out a remote alarm health check on every customer's system every day to ensure alarms are functioning correctly.
In addition to great customer support when things go wrong, Action24 customers get digital updates that make their technology even smarter. There are regular new features for no extra charge, keeping your technology cutting-edge while other security systems grow obsolete.
IS IT JUST SECURITY? WHAT ELSE IS SMART ABOUT THIS SYSTEM?
Smart home technology is the home improvement trend that's here to stay. The right security system will set you up with everything you need for a smart home. Action24 carry a wide range of essential smart devices. You can have connected video cameras, smart lights and a video doorbell. The smartphone app controls everything and you can use your voice commands with Amazon Echo… 'Alexa tell Alarm.com to turn off the lights and set the alarm'.